Best Mini Bar Fridges in Singapore 2021
(This article has been updated to include the latest deals and promotions.)
Whether you are thinking of expanding your kitchen or moving to a new place of your own, you sure would like to get all the space-saving appliances and stuff. as we know, Singaporean homes are getting smaller and smaller, so compact is key.
Since we're talking about space-saving and stuff, a mini-fridge bar would fit perfectly well with your new place! You definitely have got to go through this list because we have found the 10 Best Mini Bar Fridges in Singapore that would be perfect for anywhere!
Should I Buy a Mini Bar Fridge
But before we go into the brands, here are some benefits of having a mini bar fridge, which is not only best for dorms, but also in apartments, bedrooms, offices, and anywhere you can think of!
Fast Freezing and Cooling
Because of its technically smaller size, mini bar fridges can make your drinks cold faster than the usual refrigerators because the cold temperature is circulating in a small area. You don't have to wait too long for your ice cream to freeze also!
Energy Efficiency
Most mini bar fridges are known for their optimum energy efficiency. This means that you get lower electric bills than big kitchen refrigerators.
Portability
Most mini bar fridges do not occupy too much space so you can quickly place it into confined areas, and even your bedroom. They are also available in a variety of sizes that you can choose from so you can invest your fridge depending on your preferred size and specifications.
Easy to Clean
Being small, it's easy to clean and maintain. Now its easy to clean up spillages. You can clean your mini fridge every fortnight to ensure the compartments smell nice and fresh.
Good for Those Staying in Rented Rooms
If you are one of those who stayed in rented rooms or dorms, having your own refrigerator will be more convenient. You don't have to worry about your flat mates putting fermented tofu anymore.
Extra Food Storage
Often the regular refrigerator could not store that additional grocery your mother bought for the holidays or while throwing a party. Now with an extra space, you can put the excess grocery and leftover away. No more food wastage!
With so many advantages mentioned, let us show you which are the best mini bar fridges to buy in Singapore!
Top 10 Mini Bar Fridges in Singapore
---
1.PowerPac 2-Door Mini Bar Fridge
Store your groceries conveniently with the PowerPac 2-Door Mini Bar Fridge. Although it serves the purpose of it being small that you could fit it anywhere without any hassle, this mini bar fridge has a 2-door compartment where the other one serves as a freezer, and you heard it right!
You can also get the advantage of it having an energy-efficient compressor with a 10-year warranty. It also has an anti-bacterial carbon filter for fresher foods inside the fridge. A great deal right in front of you, so get it!
Key Features:
Energy-saving:
Dimensions: (L x W x H): 48 x 44.5 x 84.5 cm
2-year warranty on other parts and components
Fridge compartment size: 49 L
Freezer compartment size: 22 L
Get it at
Read more: Find the Best Laundry Services in Singapore
2. Farfalla Mini Bar Fridge
If you're into having a mini bar fridge right in your bedroom because getting up for drinks to the kitchen at wee hours of the night is a tedious thing to do. Here's the Farfalla Mini Bar Fridge to help you out!
This mini bar fridge can store 46 to 48 liters of food and drinks without you worrying about your electricity bill because this mini bar fridge is fairly good at using energy (two ticks on energy efficiency rating). It also has a mechanical temperature control with an adjustable thermostat if you want to be very flexible about the temperature inside.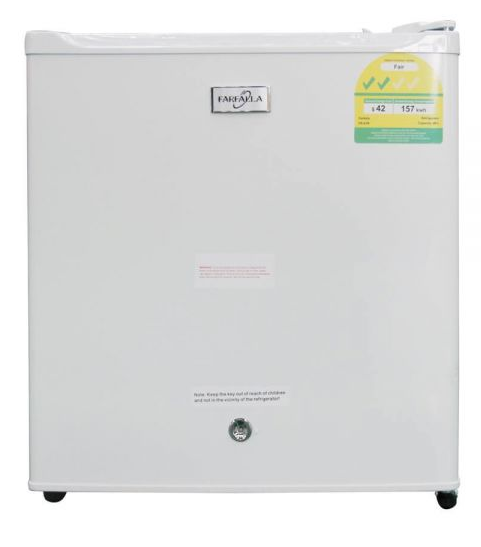 Key Features:
Energy saving:
Dimensions: (L x W x H): 495 x 436 x 470 33
Flatback
Lock (2 keys)
1-year warranty by Farfalla service center
Get it at
3. Midea Mini Bar Fridge
Give more room to your drinks and snacks with the Midea Mini Bar Fridge with a whopping 50-liter capacity! With its storage capacity, you have 2 liters of bottle rack and a separate chiller compartment for your ice cubes.
Aside from that, it has a reversible door and adjustable leg all made for your convenience, especially when you want to transport it to any room of your house.
Key Features:
Energy-saving:
Dimensions: (L x W x H): 47.2 x 45 x 49.2 cm
Mechanical temperature control
Reversible door
Get it at
4. Europace Mini Bar Fridge
Enjoy a lazy day without having to go to the pantry and get some snacks as you binge-watch Netflix during the weekend. Keep your meals and drinks inside the Europace Mini Bar Fridge without being bothered about the sound refrigerators make because of its ultra-quiet semiconductor. Plus, it's only 53 cm so that you can fit it almost anywhere in your homes.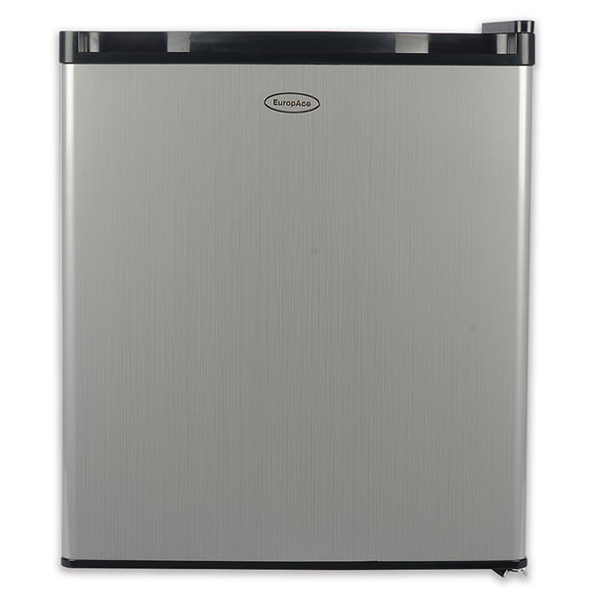 Key features:
Dimensions: (L x W x H): 515 x 460 x 530 mm
Adjustable shelves
Get it at
5. Beko Bar Mini Fridge
Space-saving can be a lot easier with the Beko Bar Mini Fridge. This fridge is perfect for small apartments and condos because it's small but has a total gross volume of 92 liters! Your groceries can surely fit into this fridge.
You got two spacious compartments with adjustable shelves, 10 liters maximum capacity of the fridge, and an icebox too! How can a small appliance give you lots of conveniences? Well, you now have the answer!
Key Features:
Energy efficiency:
Dimensions: (L x W x H): 85 x 48 x 52 cm
Get it at
Related: Best Water Dispensers in Singapore
6. LG Mini Bar Fridge
Another space-saver mini fridge that has a large capacity of 90 L is the LG Mini Bar Fridge. It has a built-in horizontal handle for accessibility. With its door, you have the privilege of the Bioshield Advantage, an anti-microbial agent that prevents bacteria and mold from thriving inside your fridge and prolong the life of your refrigerator.
You no longer have to worry about energy consumption too because the LG Mini Bar Fridge ensures that there is no cold air that would seep out of the fridge to maintain the cold environment inside due to its tight door seal.
Key Features:
Dimensions: (L x W x H): 500 x 463 x 820 mm
Direct Cooling System
Egg Bank integrated at the door
Get it at
7. Tecno Retro Series Designer Fridge
If you're designing your home or room with a retro vibe, this Tecno Retro Series Designer Fridge is perfect for your interior design! You'll surely feel nostalgic every time you open the doors of this refrigerator.
To give you a tour, you will have 128 liters of storage capacity, glass shelves, vegetable crisper, and a freezer! Plus, you have fantastic color choices: cream, mint, and lemon.
Key Features:
Dimensions: (L x W x H): 543 x 543 x 978 mm
With interior light and seven temperature settings
Direct cooling system
Glass shelves
1-year warranty
Get it at
8. Le Maison Bar Fridge
Get the perfect mini bar fridge for your drinks with the Le Maison Bar Fridge. With its 123 liters capacity, you will never run out of storage spaces! It also has an adjustable leg, and it has got two checks for energy efficiency. You will only be spending $57 for every 212 kWh. It is quite a deal, right?
Key Features:
Energy-saving:
Dimensions: (L x W x H): 524 x 532 x 831 mm
Get it at
9. PowerPac 50L Mini Bar Fridge
Another variation of the PowerPac brand is the 50-liter capacity mini bar fridge. This one door fridge gives you a new energy efficiency with a vibe! It boasts its low noise emission and the non-flammable refrigerant for you and your family's safety.
This mini bar fridge would always keep your food and drinks fresh because of its optimal door seal so all the coldness and stable temperature would be kept inside.
It also has a super microhole foaming layer that provides superior insulation technology, so you no longer have to worry about its temperature efficiency.
Key Features:
Energy-saving:
Dimensions: (L x W x H): 450 x 440 x 510 mm
Leveling feet
High-quality compressor with ten years of warranty
Optimal door seal
Get it at
10. Tecno Mini Bar Fridge with Stainless Steel Look
Get that sleek techy look of the Tecno Mini Bar Fridge with a Stainless Steel look that is perfect for your bedroom, dorm room, or office. With its 49-liter capacity, all your favorite food is kept fresh and tasty. It also comes with a side rack that is perfect for big bottles.
It also operates quietly that would not bother anything that you would do, even your sleep. Plus, you get the maximum energy efficiency throughout.
Key Features: Energy-saving:
Dimensions: (L x W x H): 470 x 450 x 510 mm
Get it at
Where to Buy a Small Fridge in Singapore?
In buying the best mini bar fridge, the first thing that you have to consider is its size. Before purchasing one, make sure that it would perfectly fit on that small corner that you want to place it.
Furthermore, all these ten mini bar fridges are manufactured by the most trusted refrigerator brands so you can genuinely rely on their overall operation and efficiency.
Now that you have a list of the best mini bar fridges, it's time to stock up on drinks, iced coffees, ice cream, and almost everything that you would need to survive your next four years in college!
---
Related:
Best Air Purifiers in Singapore