Best Ergonomic Chairs in Singapore 2021
With the COVID-19 pandemic still raging around the world, many of us have been forced to stay home. Workers are kept away from office buildings, and students kept away from schools, and in their stead, the home – the household – has become a place of learning, as well as a place of work and career development.
However, unlike schools and office buildings, most homes aren't automatically equipped with the right facilities and fixtures to promote productivity and learning. That's why more and more people today are investing in professional-grade products to furnish their homes. One of the most popular items on the market today is a high-quality and effective ergonomic chair.
What Makes a Chair Ergonomic?
Ergonomic chairs see most use in offices and professional workspaces. Carefully engineered to provide the best support, the ultimate professional comfort, and all of the features a modern professional needs to get the job done while minimizing the strain on his or her body and mind. In this regard, today's chiropractors in Singapore recommend ergonomic chairs to avoid back and neck pain.
If you're looking to buy an ergonomic chair for your home – whether it's to facilitate work or provide you with a comfortable learning environment – then you've come to the right place. In this guide, we'll walk you through the Best Ergonomic Chairs in Singapore, all combine some form of efficiency with better cushioning and a range of features, so that you can get the best results even under today's most difficult circumstances.
Related: The Best Physiotherapy in Singapore to Reduce Your Pain Effectively
Top 7 Ergonomic Chairs in Singapore
---
UMD Ergonomically Designed Full Mesh Chair – Best office chair for sitting long hours
UMD is a brand that's going to pop up a lot on this list, and for good reason. When it comes to professional office-grade equipment, UMD has been one of the go-to brands in Singapore for a while. They offer the perfect blend of quality and value to create ergonomic office chairs with an unparalleled price-to-performance ratio, just like the UMD Ergonomically Designed Full Mesh Chair.
We love it as its the best office chair for sitting long hours, the lumbar support in a way that is slightly arch and allow us to stay comfortable despite working long hours (sad but true).
Professional, minimalistic design
Astounding build quality and breathable mesh
Top-notch ergonomic features
A little pricey
Bulkier and heavier than other chairs
The UMD Ergonomically Designed Full Mesh Chair is hands-down the best ergonomic chair you can get in Singapore. While it's not the most comfortable, and it doesn't have the most features, it's still a top-performing ergonomic chair that's a great value for the price you pay and leaves nearly all of its customers satisfied. If you can't decide which chair you want, then this one won't likely disappoint.
Get it at
Related: Relief your Back Pain and Neck Pain with These Back Supports
Xiaomi Hbada XiaoY-Series Ergonomic Office Chair
One of the best newcomers to the ergonomic chair market is the Xiaomi Hbada XiaoY-Series Ergonomic Office Chair. Designed and manufactured by the tech conglomerate Xiaomi, the Xiaomi Hbada is a stellar design with great ergonomic features coming in a pretty solid price range.
Lightweight design
Comfort-oriented features
Premium feel at budget pricing
Cushion may be inadequate for some
Casters may scratch wooden tile flooring
Xiaomi's into just about everything – from smartphones to stand fans to vacuums and grooming equipment – but all of their products reflect their ideology: to provide high-performance products at budget prices. Now, the Xiaomi Hbada isn't the cheapest ergonomic chair ever, but for the features you get and the premium build quality on this chair, it definitely packs a punch a little higher than its price point.
Get it at
UMD 2020 Foldable Arm Design Ergonomic Chair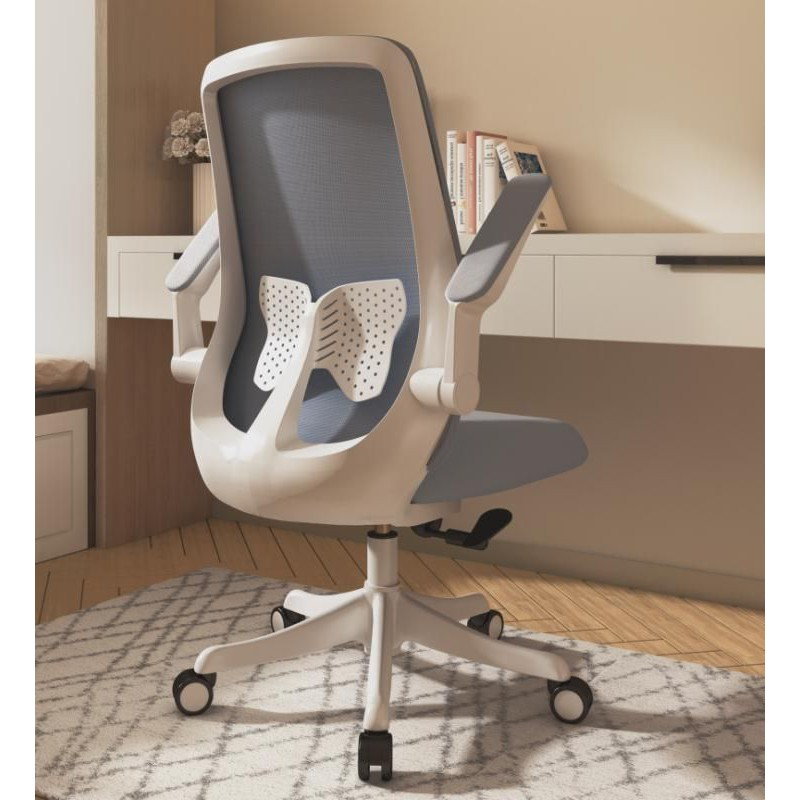 The UMD Foldable Arm Design Ergonomic Chair is the company's latest 2020 design that features foldable arms for additional comfort and control. The new design may be hit or miss depending on what you need, but rest assured that the UMD quality guarantee is still alive and well in 2020.
Great foldable arm design
Breathable mesh
Superb build quality
Simple design, not too many features
If you liked the UMD Ergonomically Designed Full Mesh Chair, but want a little more motion and flexibility in the armrests, then the UMD 2020 Foldable Arm Design Ergonomic Chair was designed specifically for you. It takes everything customers loved about the UMD Full Mesh Chair, and added foldable arms to give you more space and more control over the way you sit. Overall, the UMD 2020 Foldable Arm Design Ergonomic Chair is a great choice at a very affordable price.
Get it at
ChaHo Ergonomic E-Sports Chair
The ChaHo Ergonomic E-Sports Chair is one of the best-selling ergonomic chairs of the year, and it's increasingly popular among the youth. While professionals may irk at its sort of loud, gamer-centric design, the bottomline is that the ChaHo E-Sports Chair is also one of the best-value office chairs you can buy right now.
Great price point
Very popular design
Sturdy build
Cushioning needs improvement
It's cheap, it's comfortable, it's durable, and it's got a plethora of ergonomic features – it's clear why this chair is one of the best-selling products of the year. The ChaHo Ergonomic E-Sports Chair has so much going for it, and the only downside that anyone can see about this ergonomic chair is its loud, gamer-centric design tones. If you don't care about that, then this chair might just be the perfect fit for you.
Get it at
UMD Premium PU Leather Gaming Chair
For those who like the Ciaxy Ergonomic E-Sports Chair, but want something from a more trustworthy brand, UMD offers a similar option: the UMD Premium PU Leather Gaming Chair. Made of faux leather, and sporting a design that's common among popular video game streamers, the UMD Premium PU Leather Gaming Chair is an ergonomic chair for when you want to dominate at work or play.
PU leather feels nice and supple
Great UMD build quality
Although the design looks very similar to the Ciaxy Ergonomic E-Sports Chair, and even though this one is a little more expensive, some people might prefer the UMD Premium PU Leather Gaming Chair over other alternatives simply because of the trust and reliability of the UMD brand. Unlike Ciaxy, UMD is a well-known company that makes high-quality products, and they're confident enough about their quality assurance that they offer this chair with a 1 year warranty. If you're willing to pay more for a higher-quality product with the assurance of a warranty, then go UMD all the way.
Get it at
Herman Miller Sayl Designer Ergonomic Chair
Herman Miller is an internationally-acclaimed brand and when it comes to ergonomic chairs, you won't find any better (or more expensive, for that matter). Herman Miller office chairs are carefully designed and engineered, with innovations in every aspect to make it more comfortable, more ergonomic, more conducive to productivity, and overall, much, much better than what you'll find in lower price brackets.
There's a reason why Herman Miller is known throughout the world, and why their office chairs are used in some of the biggest corporations around the world. In smaller companies, Herman Miller chairs are reserved for executives and corporate officers, while in larger companies, you'll find a Herman Miller chair in just about every cubicle, and every conference room. Herman Miller is the poster boy for ergonomic chairs, and the Herman Miller Sayl is a testament to their quality and ingenuity.
Innovative ergonomic design
World-class build quality
Unparalleled comfort and features
The Herman Miller Sayl does proud the Herman Miller brand with its superb quality and comfort. It provides excellent lumbar support and has plenty of ergonomic features that puts you in control. Forward tilting, height-adjustable arms, and the highest-quality wheels all come together to make for a remarkable ergonomic chair that's perfect for anyone who can afford the luxurious price tag.
Get it at
MOSTIN Ergonomic Office Chair
If you want comfort and standard features at a great budget price, then the MOSTIN Ergonomic Office Chair was practically made to cater to your needs and your budget. At an astounding starting price of just S$59, this is one of the best budget options out there that doesn't compromise on form or function.
Super budget-friendly price
Comfortable
Well-built, but not perfect
Not the most durable
Not too many ergonomic features
It doesn't come with all of the bells and whistles, and its features are pretty spartan, but the MOSTIN Ergonomic Office Chair is comfortable, sturdy, doesn't feel cheaply made, and gives you lots of adjustment options to get your chair just right for work or play. If that's more important to you than higher-end features you'd see in more expensive brands, then the MOSTIN Ergonomic Office Chair is going to suit you just fine. However, if you want a chair that feels premium and is designed with the professional in mind, then the MOSTIN Ergonomic Chair might not have what you're looking for.
Get it at
Ergonomic Chairs Singapore for Back Pain
At the end of the day, getting an ergonomic chair is a very personal choice. You have to consider your needs carefully – do you need tilt and recline, do you need adjustable armrests, adjustable height, etc? You also have to consider the price and your budget.
We hope you found our curated list of the Best Ergonomic Chairs in Singapore helpful enough to facilitate your purchase decision and leave you satisfied with your chair! Check back with us again soon for the most detailed reviews on the latest products and gadgets!
Read more:
Best Gaming Chairs for Hardcore Gaming in Singapore
Top 5 Office Chairs to Increase Productivity in Singapore