Best Ergonomic Chairs in Singapore 2023 – Prices and Review
Daphne has always had a passion for writing and a love for exploring new experiences and trends. After completing her degree in journalism, she began her career as a lifestyle writer for a popular online publication in Singapore. She has since built up an impressive portfolio of articles covering a wide range of topics, from food and travel to fashion and beauty.
Backaches and neckaches are common for office workers in Singapore. With the COVID-19 pandemic, many of us have been forced to stay home and now working from home is more than the norm.
Workers are kept away from office buildings, and students kept away from schools, and in their stead, the home – the household – has become a place of learning, as well as a place of work and career development.
However, unlike schools and office buildings, most homes aren't automatically equipped with the right facilities and fixtures to promote productivity and learning.
That's why more and more people today are investing in professional-grade products to furnish their homes. One of the most popular items on the market today is a high-quality and effective ergonomic chair.
What Makes a Chair Ergonomic?
Ergonomic chairs see most use in offices and professional workspaces.
Carefully engineered to provide the best support, the ultimate professional comfort, and all of the features a modern professional needs to get the job done while minimizing the strain on his or her body and mind.
In this regard, today's chiropractors in Singapore recommend ergonomic chairs to avoid back and neck pain.
If you're looking to buy an ergonomic chair for your home – whether it's to facilitate work or provide you with a comfortable learning environment – then you've come to the right place.
In this guide, we'll walk you through the Best Ergonomic Chairs in Singapore, all combine some form of efficiency with better cushioning and a range of features, so that you can get the best results even under today's most difficult circumstances.
Related: The Best Physiotherapy in Singapore to Reduce Your Pain Effectively
Top 10 Ergonomic Chairs in Singapore that are Good for Your Back
Which is the best ergonomic office chair in Singapore?
---
1. ErgoTune Supreme – Ergonomic Office Chair
ErgoTune Supreme – Ergonomic Chairs Singapore
Say goodbye to neck aches and hello to neck support with this ErgoTune Supreme, an ergonomic office chair for working people, even for students or gamers.
This chair features an adjustable seat height to fit knees at 90-degree, and a backrest height for your comfort. The armrest is GyroBrace which has height, weight, and rotation on-demand.
To fully support your back, it has an ATLAS lumbar support at any angle. What's more to love is its TrueTilt recline feature, so you can comfortably rest your body with lock and tension controls.
Pros:
Most comfortable chair
Supercooling mesh
Limitless adjustments
5D armrest
Cons:
Self-assemble
Not easy to install
Verdict:
This ergonomic chair might not be as affordable to some listed, yet it is not that expensive as well; somehow, it's in the mid-range ergonomic chairs to buy.
The ErgoTune supreme has so many features, and it's just right for its price. No wonder it's considered the most comfortable ergonomic chair in Singapore.
Get it at
Related: Relief your Back Pain and Neck Pain with These Back Supports
2. Xiaomi Hbada XiaoY-Series Ergonomic Office Chair
Xiaomi Hbada XiaoY-Series Ergonomic Office Chair – Ergonomic Chairs Singapore
Office chairs are essential for anyone who spends a considerable amount of time sitting down, whether at work or home.
A good ergonomic chair should provide support and comfort throughout the duration of your working day.
One of the best newcomers to the ergonomic chair market is the Xiaomi Hbada XiaoY-Series Ergonomic Office Chair.
Designed and manufactured by the tech conglomerate Xiaomi, the Xiaomi Hbada is a stellar design with great ergonomic features coming in a pretty solid price range.
It can also be adjustable to accommodate different body types, so that you can find a comfortable position no matter what your size or shape may be.
Lightweight design
Comfort-oriented features
Premium feel at budget pricing
Cushion may be inadequate for some
Casters may scratch wooden tile flooring
Xiaomi's into just about everything – from smartphones to stand fans to vacuums and grooming equipment – but all of their products reflect their ideology: to provide high-performance products at budget prices.
Now, the Xiaomi Hbada isn't the cheapest ergonomic chair ever, but for the features you get and the premium build quality on this chair, it definitely packs a punch a little higher than its price point.
Get it at
Recommended: Which tower fan is best in Singapore?
3. UMD Foldable Arm Design Ergonomic Chair – Best for short person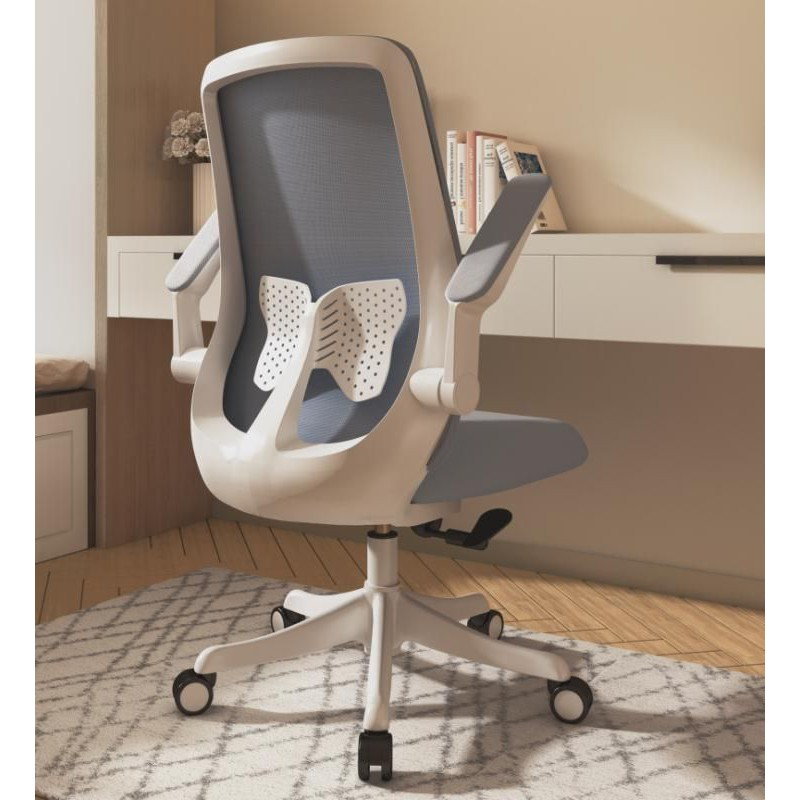 UMD Foldable Arm Design Ergonomic Chair – Ergonomic Chairs Singapore
A good ergonomic office chair can make a big difference in your overall work productivity.
The UMD Foldable Arm Design Ergonomic Chair is the company's latest design that features foldable arms for additional comfort and control.
The new design may be hit or miss depending on what you need, but rest assured that the UMD quality guarantee is still alive and well in 2022.
Great foldable arm design
Breathable mesh
Superb build quality
Simple design, not too many features
If you liked the UMD Ergonomically Designed Full Mesh Chair, but want a little more motion and flexibility in the armrests, then the UMD 2020 Foldable Arm Design Ergonomic Chair was designed specifically for you.
It takes everything customers loved about the UMD Full Mesh Chair, and added foldable arms to give you more space and more control over the way you sit. Overall, the UMD 2020 Foldable Arm Design Ergonomic Chair is a great choice at a very affordable price.
For petite people (165cm and below), the seat depth adjustment allows for the seat depth to be lowered so you can make this chair really small.
We certainly also love the ease of putting it together as assembling is easy with instructions.
Get it at
4. ChaHo Ergonomic E-Sports Chair
ChaHo Ergonomic E-Sports Chair – Ergonomic Chairs Singapore
The ChaHo Ergonomic E-Sports Chair is one of the best-selling ergonomic chairs of the year, and it's increasingly popular among the youth.
While professionals may irk at its sort of loud, gamer-centric design, the bottomline is that the ChaHo E-Sports Chair is also one of the best-value office chairs you can buy right now.
This chair comes with features like lumbar support and adjustable headrests that can make working more comfortable.
Not only does it help to support your back, it can also improve the posture and reduce pain related to stress or chronic injuries.
Great price point
Very popular design
Sturdy build
Cushioning needs improvement
It's cheap, it's comfortable, it's durable, and it's got a plethora of ergonomic features – it's clear why this chair is one of the best-selling products of the year.
The ChaHo Ergonomic E-Sports Chair has so much going for it, and the only downside that anyone can see about this ergonomic chair is its loud, gamer-centric design tones.
If you don't care about that, then this chair might just be the perfect fit for you.
Get it at
5. UMD Premium PU Leather Gaming Chair
UMD Premium PU Leather Gaming Chair – Ergonomic Chairs Singapore
For those who like the Ciaxy Ergonomic E-Sports Chair, but want something from a more trustworthy brand, UMD offers a similar option: the UMD Premium PU Leather Gaming Chair.
Made of faux leather, and sporting a design that's common among popular video game streamers, the UMD Premium PU Leather Gaming Chair is an ergonomic chair for when you want to dominate at work or play.
PU leather feels nice and supple
Great UMD build quality
Although the design looks very similar to the Ciaxy Ergonomic E-Sports Chair, and even though this one is a little more expensive, some people might prefer the UMD Premium PU Leather Gaming Chair over other alternatives simply because of the trust and reliability of the UMD brand.
Unlike Ciaxy, UMD is a well-known company that makes high-quality products, and they're confident enough about their quality assurance that they offer this chair with a 1 year warranty.
If you're willing to pay more for a higher-quality product with the assurance of a warranty, then go UMD all the way.
Get it at
6. Herman Miller Sayl Designer Ergonomic Chair
Herman Miller Sayl Designer Ergonomic Chair – Ergonomic Chairs Singapore
Herman Miller is an internationally-acclaimed brand and when it comes to ergonomic chairs, you won't find any better (or more expensive, for that matter).
Herman Miller office chairs are carefully designed and engineered, with innovations in every aspect to make it more comfortable, more ergonomic, more conducive to productivity, and overall, much, much better than what you'll find in lower price brackets.
There's a reason why Herman Miller is known throughout the world, and why their office chairs are used in some of the biggest corporations around the world.
In smaller companies, Herman Miller chairs are reserved for executives and corporate officers, while in larger companies, you'll find a Herman Miller chair in just about every cubicle, and every conference room.
Herman Miller is the poster boy for ergonomic chairs, and the Herman Miller Sayl is a testament to their quality and ingenuity.
Innovative ergonomic design
World-class build quality
Unparalleled comfort and features
The Herman Miller Sayl does proud the Herman Miller brand with its superb quality and comfort. It provides excellent lumbar support and has plenty of ergonomic features that puts you in control.
Forward tilting, height-adjustable arms, and the highest-quality wheels all come together to make for a remarkable ergonomic chair that's perfect for anyone who can afford the luxurious price tag.
Get it at
7. MOSTIN Ergonomic Office Chair
MOSTIN Ergonomic Office Chair – Ergonomic Chairs Singapore
If you want comfort and standard features at a great budget price, then the MOSTIN Ergonomic Office Chair was practically made to cater to your needs and your budget.
At an astounding starting price of just S$59, this is one of the best budget options out there that doesn't compromise on form or function.
Super budget-friendly price
Comfortable
Well-built, but not perfect
Not the most durable
Not too many ergonomic features
It doesn't come with all of the bells and whistles, and its features are pretty spartan, but the MOSTIN Ergonomic Office Chair is comfortable, sturdy, doesn't feel cheaply made, and gives you lots of adjustment options to get your chair just right for work or play.
If that's more important to you than higher-end features you'd see in more expensive brands, then the MOSTIN Ergonomic Office Chair is going to suit you just fine.
However, if you want a chair that feels premium and is designed with the professional in mind, then the MOSTIN Ergonomic Chair might not have what you're looking for.
Get it at
8. Steelcase Gesture Chair
Steelcase Gesture Chair – Ergonomic Chairs Singapore
Steelcase is a leading US premium office furniture & design company with a storied history offering a range of award-winning office furniture products and services.
Their current flagship chairs have been developed to expand the classic image of the office chairs to meet the demands of the modern workplace environment.
In recent years, Steelcase Gesture Chair has established its reputation as the best in the industry. Its uncompromising design and build quality adapt perfectly to today's office setting.
The Gesture's "3D LiveBack" technology helps to align your spine in a healthy S-shape and ensure all day seating comfort.
The easy-to-use seat adjustments enable personalized and precise adjustments for people of all sizes, but keeping a small footprint.
Gesture's 360-degree arms revolutionize today's workflow by ensuring both shoulder and arm support across the use of different mobile devices, ensuring all round comfort.
All Day Comfort
360 Degree Rotating Arms
Back Support
Soft Thermal Edges
Lumbar support for the lower back is excellent but can be better
No way to lock the backrest incline in position
The Steelcase Gesture Chair is a really great option if you're looking for versatile seating that can be used in a variety of settings. It's comfortable and easy to adjust, so it's perfect for any office or home use.
Furthermore, the chair features an ergonomic design that helps to improve your posture and reduce strain on your back and neck.
All in all, a very high quality product.
Get it at
9. Homez Mesh Office Chair
Homez Mesh Office Chair – Ergonomic Chairs Singapore
When looking for an office chair, we like to find one that is durable and fits comfortably into our workspace.
This Homez Mesh Office Chair is the most affordable ergonomic chair on our list. Despite its affordable price, it didn't miss out on some great features an office chair should have.
Its design boasts elegance, plus it is light and modern looking, which is perfectly suited for any desk setup.
Of course, this chair has all the support you need from the neck, lumbar, and hip with free rotation and high lift function. This also has a streamlined hand rest and high elastic seat for your comfort.
Pros:
Adjustable height
Breathable and comfortable mesh
High-quality chrome steel leg
Rotatable and noiseless castors wheels
Swivel 360-degree rotation
Cons:
Self assemble of the chair is tricky
Cheap material just right for its price
Verdict:
If you are looking for an ergonomic chair just for your work or school, this is a great option, especially when you're on a budget.
Though the quality of the material used in this chair is cheap, it is still perfect for its price and is helpful for your desk setup, as long as it is assembled properly and taken care of.
Still, don't worry because this chair features durability and a strong, dense seat.
Get it at
10. UMD Ergonomically Designed Full Mesh Chair – Best office chair for sitting long hours
UMD Ergonomically Designed Full Mesh Chair – Ergonomic Chairs Singapore
UMD is a brand that's going to pop up a lot on this list, and for good reason. When it comes to professional office-grade equipment, UMD has been one of the go-to brands in Singapore for comfortable seating.
They offer the perfect blend of quality and value to create ergonomic office chairs with an unparalleled price-to-performance ratio, just like the UMD Ergonomically Designed Full Mesh Chair.
We love it as its the best office chair for sitting long hours, the lumbar support in a way that is slightly arch and allow us to stay comfortable despite working long hours (sad but true).
Professional, minimalistic design
Astounding build quality and breathable mesh
Top-notch ergonomic features
A little pricey
Bulkier and heavier than other chairs
The UMD Ergonomically Designed Full Mesh Chair is hands-down the best ergonomic chair you can get in Singapore.
While it's not the most comfortable, and it doesn't have the most features, it's still a top-performing ergonomic chair that's a great value for the price you pay and leaves nearly all of its customers satisfied.
If you can't decide which chair you want, then this one won't likely disappoint.
Get it at
Best Ergonomic Chairs Singapore for Back Pain
How do I choose an ergonomic chair in Singapore?
If you are looking for an office chair or setting up your work from a home office, it is highly suggested to purchase an ergonomic chair.
Ergonomic chairs have the ability to correct your sitting position for back support to prevent back pains and offer you a comfortable seat. Here are some factors to consider when choosing an ergonomic chair for your comfort and convenience:
1. Seat Height
2. Adjustability
3. Backrest
4. Seat Material
5. Comfortability
6. Armrest
7. Swivel
Make sure to check the chair's features and functions before choosing, or try seating on them to know how comfortable it would be.
Is it better to have an office chair with or without arms in Singapore?
Buying an office chair without armrests depends on you, but for some reason, it is highly recommended to buy those with armrests.
Armrests help support your arms and reduce the load on your lower back while working or just resting. This offers a relaxed position for your arms and hands, easing the muscle tension.
The only thing why some wouldn't like an armrest is because it creates risk in shoulder-shrugging or stress in forearms.
What is the average price of an ergonomic chair in Singapore?
The average price of an ergonomic chair ranges from about $200 to $1000 depending on the brand, model, and features you select.
The most important factor in selecting the right ergonomic chair is ensuring the chair suits the user's body type and working environment properly.
Chairs with adjustable heights, back support, and adjustable arm rests are some of the most sought after features and tend to cost more than chairs with limited options.
Furthermore, ergonomic chairs with higher quality materials and construction are more expensive but are often much more supportive and durable than lower quality chairs.
Why are ergonomic chairs so expensive?
Ergonomic chairs are designed to provide maximum comfort and support for the user, so that they are able to work in a healthier and more productive way.
Their design incorporates features such as adjustable heights and arm rests, specialized lumbar support, and often advanced synchro-tilt mechanisms to help the user stay in the right posture throughout prolonged periods of sitting.
This superior design, combined with high-quality materials and components, drive up the cost of ergonomic chairs, making them some of the more expensive types of chairs on the market.
Ergonomic Chairs Singapore
At the end of the day, getting an ergonomic chair is a very personal choice. You have to consider your needs carefully – do you need tilt and recline, do you need adjustable armrests, adjustable height, etc? You also have to consider the price and your budget.
We hope you found our curated list of the Best Ergonomic Chairs in Singapore helpful enough to facilitate your purchase decision and leave you satisfied with your chair! Check back with us again soon for the most detailed reviews on the latest products and gadgets!
Read more:
Best Gaming Chairs for Hardcore Gaming in Singapore
Top 5 Office Chairs to Increase Productivity in Singapore
Most Popular IKEA products to buy in Singapore
Why You Should Trust Best Prices SG?
All our editors including the author of this article, we do extensive research on the products reviewed and recommended in the article. We also use these products ourself to give you accurate, first hand information without any prejudice or bias. BestPrices.sg has also got a team of medical reviewers and skincare experts to help give accurate advice and provide research-based facts concerning a product, its formulation or ingredients.