Best Aloe Vera Gels in Singapore 2021
(This article has been updated to include the latest deals and promotions.)
Skincare routines are very trending right now, especially for millennials. There are a variety of skin products in a routine to achieve perfectly glowing skin. These young people take a significant amount of time on their everyday lives just to perform their skincare routine.
One very popular product is probably anyone's skincare routine is Aloe Vera Gel. This has been mainly used for moisturization and hydration of the skin.
Aloe Vera has been scientifically proven to improve certain skin conditions like soothing burns, sunburns and small abrasions. It can also be absorbed by the skin very quickly which can help treat dry skin.
Using aloe vera gels after bathing can lock in the moisture on your skin. Aloe vera also has an anti-inflammatory component which is perfect in treating acne, which is a common problem, especially with teenagers.
In this article, we will be listing the best aloe vera gels that you can find in Singapore to help you achieve that perfect skin.
Top 10 Aloe Vera Gels in Singapore
1. BIOAQUA Natural Aloe Vera Smooth Gel
Your skin may feel worn out because of the hot and humid weather of Singapore. Keep your skin refreshed and moisturized using the BIOAQUA Natural Aloe Vera Smooth Gel.
It does not leave a greasy and oily residue like other aloe vera gels. You can use this as a whole-body moisturizer, face mask, eye mask and even treat your sunburn caused by the hot weather.
If you want an extra cooling effect, you can store this aloe vera gel inside your fridge and use it as necessary. Say goodbye to dull-looking skin with this aloe vera gel which is light to the skin.
Get it at
Recommended: Which Hair Straightener is Best in Singapore?
2. Fruit of The Earth Aloe Vera Gel
Summer is fast approaching and all of us are in dire need of a product to protect our skin from drying and sunburn. Fruit of the Earth Aloe Vera gel is made from fresh aloe vera leaves with no fragrance, no alcohol and no color added which can be very gentle on the skin. Instantly add a protective layer on your skin to help it retain moisture.
Itchy skin and chaffy lips are also one of the common skin problems during summer and this aloe vera gel provides effective relief for almost all these skin problems.
Insect bites can also be a problem during summer and using the Fruit of the Earth Aloe Vera Gel immediately soothes the skin from insect bites, and this product is scientifically proven safe to use for children.
Get it at
Read more: Best Hand Sanitizers in Singapore
3. Biofinest Aloe Vera Gel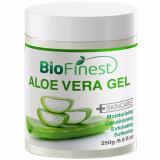 This 100% pure and organic aloe vera gel is packed with Vitamin C, B12 and E which perfectly revitalizes and restores damaged skin cells. Vitamin C is an antioxidant that helps neutralize free radicals and aid your skin's natural regeneration process.
Vitamin E reduces skin inflammation to make your skin look younger naturally, and Vitamin B 12 helps in preventing dark spots and pigmentation to maintain an even skin tone.
The great thing about this aloe vera gel is you can also use this as to lightly exfoliate your skin, leaving it soft and moisturized. This can also be applied to sun-damaged and dry hair for repairing split ends and adding a boost of shine in your crowning glory.
This premium aloe vera gel is created with no synthetic fragrances and artificial color making it safer to use for your body.
Get it at
4. Jorubi Aloe Vera Gel
With its 200 constituents including polysaccharides, enzymes, vitamins, minerals, and amino acids, you can have a perfectly moisturized skin that is revitalized from inside and out. We love to apply some after hair removal or waxing, the feeling is really soothe on the skin. Apply at least 5 days after the waxing session to enjoy the most healing benefits this gel can offer.
If you are concerned with acne scarring, Jorubi Aloe Vera Gel is your best friend! This 99% pure aloe vera gel treats pimples and acne, making your skin less susceptible to acne scars. This is also perfect for new moms or women who are concerned about their stretch marks as this improved skin elasticity making your stretch marks less visible.
Not only this can be used by millennials and young adults, but our grannies can also have this product for alleviating and relieving their aching joints due to arthritis. This can be a perfect gift to our grandmas and grandpas!
Get it at
5. Nature Republic Soothing and Moisture Aloe Vera 92% Soothing Gel
Nature Republic Aloe Vera Gel can be used from head to toe! With its skin-firming and moisturizing effect, you can have that glowing skin that you have always dreamed of! By applying generously, you will be killing harmful bacteria on your face as aloe vera has potent antibacterial, antifungal, and anti-inflammatory properties.
Use this with your favorite make-up primer for a natural glowing look all day long, and this keeps your skin moisturized even with your make-up on.
If you have puffy eyes due to overworking or if you just enjoyed having an all-night movie marathon, you can place a cotton pad with the Nature Republic Aloe Vera Gel to rest and soothe your tired eyes.
Also, if you have been a huge fan of nail polish, you can protect your nails by keeping it healthy and moisturized by applying this aloe vera gel.
Get it at
Related: Best Facial Cleanser in Singapore
6. Laikou Natural Aloe Vera Gel
Aloe vera is proven to have many uses in caring for our bodies. Did you know that you can also use this Laikou Aloe Vera Gel as a shaving cream for a closer shave and an instantly moisturized skin?
This can be a perfect gift to a husband, boyfriend or brother who is in need of a soothing gel after shave because men need to have their skin moisturized and smooth too! You can also make your hair even smoother and healthier by applying this product.
Aside from making your face look refreshed and healthy, you can apply this on your wound for faster healing and kill harmful bacteria that can cause further infections.
Get it at
7. AloDerma Aloe Vera Gel
Among all the known benefits of aloe vera in treating skin problems, one of the amazing aspects of the AloDerma Aloe Vera Gel is you can apply this product on your baby's sensitive skin.
Eczema and diaper rash is very common in babies and can be a huge worry especially to new moms. This aloe vera gel can prevent worsen the condition of your baby's skin and you can give them instant relief from the itchiness of eczema.
Of course, mommies can also use this product for their skincare routine, especially in revitalizing the skin after birth and soothe puffy eyes due to long sleepless nights in caring for her baby.
Get it at
8. Au Fairy 100% Organic Aloe Vera Gel
Have a magical moment during your skincare routine with the Au Fairy 100% Aloe Vera Gel. This is perfect for young ladies who wanted to have attractively smooth skin without breaking the bank!
It is specially formulated for ladies living in tropical countries such as Singapore. This product is suitable for all skin types and can be used on the dry and sensitive parts of the body. Never have to worry about dry skin all throughout the year with this amazing 100% organic aloe vera gel.
Get it at
9. Innisfree Aloe Revital Soothing Gel
Energize your over-tired and stressed skin with the Innisfree Aloe Revital Soothing Gel. This aloe vera gel is designed with Aloe Vitalizing energy which is a unique blend of Jeju Aloe and Madecassoside.
Madecassoside is a plant-derived ingredient from Centella Asiatica and is very well known for its curative properties in wound healing and for the anti-inflammatory benefits.
If you are in dire need of intensive moisturization due to all the pollution and pollution that you have had during the day, this product is ideal for you. Apply this on any part of your body which needs deep moisturization. As a result, you'll have an absolutely moisturized and refreshed skin.
Get it at
10. Perth's Key Aloe Vera Sedative Gel
Aloe vera is one of the best organic and natural moisturizers that we can find on the market. Perth's Key Aloe Vera Sedative Gel claim to be the first class of Aloe to be granted the international Aloe Science Council (IASC) certification standards.
Their aloe vera gel is known for its anti-aging and damage-repairing quality and can help reduce fine lines and wrinkles. This is ideal for men and women who wanted their skin to feel young and lively regardless of age.
A study was conducted using this product where 30 women aged 45 and up consistently used this aloe vera gel and it was proven that the Perth's Key Aloe Vera gel has significantly increased collagen production and skin elasticity over a 90-day period of use.
Where to Get Aloe Vera Gel in Singapore
Choosing the best Aloe Vera gel for your skin would depend on how your skin reacts to a certain brand. Aloe Vera gel manufacturers add up a different amount of ingredients which may or may not suit your skin type.
Nevertheless, we are always free to discover what skin product works for us to achieve the glass-smooth skin that we always wanted.
Aloe Vera gels can not only be used as a skincare routine product but it is an immediate and natural remedy for some skin conditions that require very gentle care.
We are all blessed with the emerging technology that has helped us covert the miracle plant, Aloe Vera, into a more convenient product in gel form to immediately give our bodies a soothing treatment.
Related:
Best Manuka Honey in Singapore 2021
Best Collagen Drinks in Singapore